Welcome to the
Beloit College online advising and application system for off-campus study!


Off-campus study offers many opportunities for students to develop intercultural skills while also practicing the liberal arts.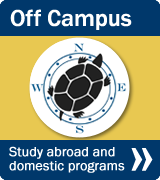 The dominant form of study abroad at Beloit College is enrollment in universities abroad on an exchange or visiting student basis for one or two semesters. These options fall into three categories: Beloit College partnerships with universities and organizations abroad, ISEP (a multilateral exchange program in which Beloit College participates), and universities affiliated with Beloit College.
In some countries, differences in academic systems make university enrollment difficult, and in these cases, provider programs (that is, programs designed for American study abroad students) are recommended. Depending on students' preparation and disciplinary interests, provider programs may also be a good option.
Students:
Before submitting a study abroad application, students should have consulted the
Office of International Education (OIE) pages
as well as met with their faculty advisor(s) and an advisor in the Office of International Education.
See instructions on completing the application here.
When ready, click on "
LOGIN
" and use your Beloit College user name and password to access your account.
Faculty
: you can log in to complete recommendation requests by clicking on "
LOGIN
" and using your Beloit College user name and password. Click on "
Recommender Home
" to find lists of pending and completed recommendations.
Office of International Education
www.beloit.edu/oie
oie@beloit.edu - (608) 363-2269
717 Chapin St.